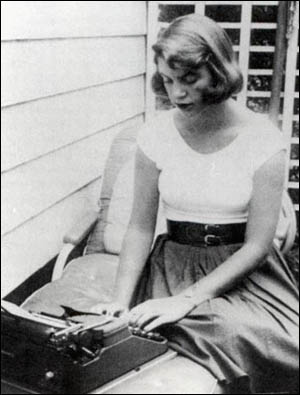 Taking a cue from my dear friend
Josh's rumination
on what drew him to writing poetry as a teenager, I've been thinking of my own coming to letters in my adolescence. I have to thank my 11th grade English teacher, Bonnie Reid. In her junior American lit class, students were assigned to choose an American poet and do a research project on that poet, including a report on his or her biography, an explication of a major poem, and a creative component--an artistic rendering of a poem, a book of our own creative work inspired by the poem, or, in my case, a food-related project. I wound up stuck (begrudgingly) doing my project on Carl Sandburg, so of course the poem I explicated was "Chicago," the one that begins "Hog butcher of the world." I made sugar cookie pigs iced with pink strawberry frosting. They weren't that cute.
I bet you're thinking that my project on Sandburg made me want to write, that good ol' Midwesterner Carl's work changed my young life. Well, not exactly. The truth is, I wanted to do my project on Sylvia Plath--because of the suicide mythos--but she was snatched up by a girl in my class before I could get my hands on her. I was resentful for a minute, and I decided I'd research Plath, too, so I could grill my classmate when she presented her Plath project.
What I found in my reading is that Plath spoke to me. I felt like the "
terrible fish
," and though my father and I always have gotten along, I, too, understood on some fundamental level the struggle to love a
daddy
you wanted to hate. "
Dying is an art, like everything else
," and Sylvia and I were in cahoots on that topic. I toyed with being stylishly depressed to the point of writing a few too many suicide poems when I was a teenager, probably because I was more inspired by Plath than I should have been.
Regardless of my emotionally over-wrought youth, I'm glad I spent significant time with Plath. In a time when I was sure I'd go to hell because of my sexual identity, when I wasn't sure if my parents would be able to love me anymore because of my recent coming out, when I felt alone in a world of people who would never understand me (show me a 17-year-old who doesn't feel that way), Plath's poetry spoke to me on a very fundamental level. I felt her struggle, because in a lot of ways, it was my struggle, too. I just wanted love, validation, legitimacy for an identity I didn't think then could ever be acceptable. Plath became a kindred spirit for me when no one understood me, and because of the time I spent with her work (I especially loved "
Cut
"), I decided I'd give poetry a shot, too.
So, I went to college and took a slough of creative writing classes, decided I enjoyed writing, and kept on doing it. That, as they say, was that.
Sure, I wrote before I found Plath--I've kept journals since I was about 12. And I toyed with writing poems the whole time. But Plath gave me a stake in the world of letters; she made me realize poems could be edgy, confessional, personal. She made it okay to be confused and sad, especially sad when I didn't know why I was. Though I'm not as into Plath now (nor am I nearly as emotionally over-wrought, thank God), I'm glad for those confusing, scary teen years and stumbling into Plath, because those experiences helped me stumble into being a writer. A serious writer. At least, that's what I'm trying to be.
So, thanks, Ms. Plath.